Candler Park Festival
September 1999
The community around Candler Park, in East Atlanta, put on a yearly festival in the little park in their neighborhood. Since it was a beautiful sunny day and one of my favourite bands, 6X, was to perform, I decided to swing by and take a look.
Saturday 9/18/99
The newspaper advertisement said parking was limited and suggested using MARTA: I was stupid enough to listen . My 30 minute drive took over an hour by train due to track maintenance. Plus I had trouble finding the park from the station since there are no maps or signs.
I had some time before 6X took the stage so I walked around the twenty or so arts & crafts booths, but didn't see anything special. The usual hats, paintings, pottery, and stained glass was available. There was also a massage booth where you could get your back straightened. But I didn't venture there.
6X put on a very good show and even played two new songs I hadn't heard before. The crowd seemed to enjoy it as there was actual applause after each song, not just courteous clapping.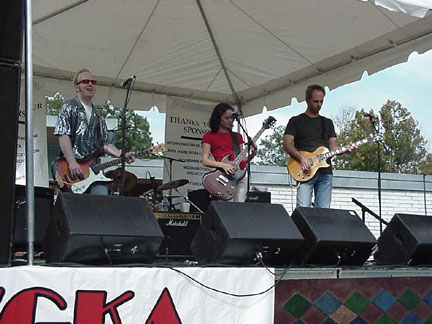 Lara seemed especially happy that her niece were in the audience. She could be seen later walking her niece on a leash. Everyone else was walking their dogs, Lara was walking her niece - it was pretty surreal for a moment there. It was one of those child harness things some parents use.
During the performance several little girls started dancing below the stage. This seemed to really humor the band because they really got into it. They even stopped the show and passed out candy and stickers to any little children that would come up and dance. Lara dubbed them the 6X Dancers.
| | |
| --- | --- |
| Official 6X links | Other 6X sites |
Just prior to 6x, Three Fingered Cowboy put on a nice performance. They weren't bad and I think I'll check out their next show.
Next after 6X on stage was Young Antiques followed by The Greta Lee Band. Both bands were descent, but I wasn't really impressed and neither was the audience. I left shortly thereafter.
Sunday
It was a beautiful day, and I didn't have anything planned, so I went back to the festival on Sunday afternoon. On the way I stopped to pick-up some Subway sandwiches. I parked about a block away and carried my beach chair down to the music stage. I stayed for about two hours and saw The Stimulants, SMO, and Deacon Brody. It was very nice.
| | |
| --- | --- |
| | |
| | SMO |
| | |
Throughout the festival the organizers put out several large white boards and several tins of paint for the attendees to paint a mural. Everyone got the chance to express their own ideas, visions, and hopes. A very interesting idea.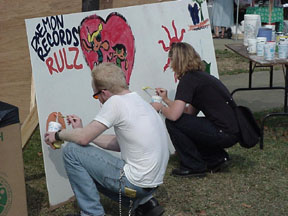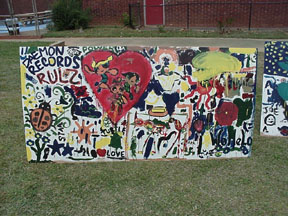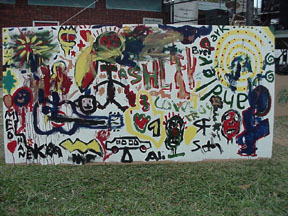 My biggest disappointment with the festival was the lack of food. I went expecting to buy lunch, have a beer, and enjoy the music. The only food was from a hot dog van or a snow cone booth. Sure there was Dogwood beer, but I wasn't in the mood without a good gyro or sausage grinder. My suggestion, if you go, is to pack a lunch.
Official Candler Park Festival website
All pictures are the property of Stefan and are not to be posted on other websites or published in any medium without express written permission.